The Conference finals are here. After 2 rounds in our annual challenge, Danny holds a 12-9 lead in points - the difference being the Kings game 7 win in LA. We are left with a final 4 represented by each of the last 4 Cup Winners, a sigh of relief to any fan wanting to avoid some "fake team" winning due to a lockout shortened season (I am not the only one, right?). Fun fact: this is the first time that has happened since 1945. Conference finals start today at 5. Here are your previews. Jason had to send his from his iPhone, so please excuse any typos. Enjoy!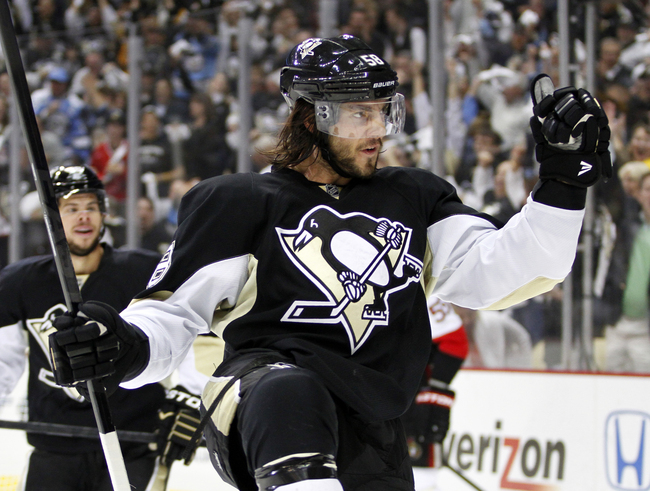 Kris Letang is unshaven and ready (Getty images)
Both teams experienced much easier 2nd rounds than their respective firsts, and will both be plenty rested when they face off for game 1 on Saturday. Pittsburgh saw away an over-matched Ottawa team in 5 games, While the Bruins put away a Rangers side that lacked the offense to compete.
The Penguins are led by none other than captain Sidney Crosby, who is having a predictably marvelous postseason recording 8 goals and 7 assists in 10 games played. They are also seeing continued production from breakout star James Neal, who is averaging over 0.5 Goals per game in his last 2 seasons with the squad (including playoffs). Not to mention some guy named Malkin who actually leads his team in points.
The Power Play has never been a problem for Pittsburgh and this has continued throughout the playoffs - cashing in on 28% of their opportunities.

The Power Play will be a huge advantage for the Penguins in this series as Boston has had among the weaker PP's in the league throughout the year. However the emergence of Torey Krug has been a huge lift. The 21 year old Defenseman scored 4 goals in his first 5 NHL playoff games (he'd only appeared in 3 games prior to these playoffs) all against Henrik Lundqvist. He has shown a killer instinct that has lifted the Bruins PP to a force to be reckoned with. Either team would do well to stay away from the box in this series.
Boston has shown that depth can get you far in the playoffs 10 players on their roster have contributed at least 2 goals so far in 12 playoff games. Leading them is David Krejci, who leads all NHL skaters with 17 point in the postseason. One player that is not among the 10 is the legendary Jaromir Jagr who has yet to find the back of the net despite being 4th on the team in shots. The Bruins would receive a huge boost if he is able to chip in against his former team.
Defensively both sides are solid. Anyone who plays fantasy hockey knows that if you need points in the plus/minus category, you should look for players on the Bruins. They currently represent the top 4 spots in that category in the postseason - a result of a stingy defense that wont give an inch. The same can obviously be said for their goaltending. Their top pair of Zdeno Chara and Johnny Boychuk have received a ton of work - Chara has averaged nearly 30 minutes a game, so the rest in between series is welcome.
Pittsburgh has been resurgent since replacing Marc-Andre Fleury with Tomas Vokoun in net, going 6-1 since making the switch - Vokoun posting a .941 Save % in that span. He will be tested in a way that both the Islanders and the Senators were unable to when he faces Boston, and it will be interesting to see how those numbers hold.
This series looks to be a battle of of Offense vs. Defense, Finesse, Vs. Brute Force. For the non-partisan fan, this is what hockey is all aboot. Pittsburgh does have the home-ice advantage which has played a pivotal role in the playoffs thus far - home teams went 20-5 in round 2. If The Penguins can win just 1 game at the TD Garden, it will be lights out.
Pittsburgh vs Boston

Both teams are coming off of a quick series where they were clearly the better team. The Penguins finished off their 5 game win over the Senators with two decisive victories and the bruins couldn't notch a sweep against New York but closed it out at home in 5.

For the penguins, benching Marc-Andre Fluery in the first round has helped turn things around. Offensively they have 3 of the top 5 scorers these playoffs, with Malkin, Letang and of course, Crosby. The other two happen to be on Boston. These two teams play different styles. Pittsburgh would gladly welcome a gun fight while Boston will probably want to play a bit tighter.

In net, Boston has a clear advantage. Rask played very well against the Rangers, however, he is going to be tested much for against the Penguins lethal offense. I think Rask can win a few games, but the real question is can he win four?

The Bruins relied on a young defensive corps in the second round, including standout Torrey Krug who made his NHL debut in round two with 4 goals in 5 games and some strong defensive play. I'd talk more about him but NBC analyst Pierre McGuire has been doing that non stop since game 1 of round 2 already.

It should be a good matchup, but I think the Penguins hot offense gets it done. Penguins in 6.
Both teams are coming off of hard fought 7 game series that were settled on home ice. LA held off a late surge from a pesky Sharks team, and the Blackhawks winning in overtime on a "Puck Don't Lie" moment that would have made Rasheed Wallace smile.
Despite a wealth of young talent, it has been veterans Marian Hossa and Patrick Sharp that have led the way for Chicago this postseason. They have advanced to this point in spite of the lack of production from Jonathan Toews and Patrick Kane, a trend that will have to break in order for them to advance in this round. Having said that, Corey Crawford has been great, making some key saves against Detroit while fending off elimination in 3 consecutive games.
The main problem for Chicago in this series comes in the form of Jonathan Quick, who has easily been the best goalie in the playoffs. We have seen him do this before, and Kings fans are drooling over flashbacks from one year ago. Not only is he sporting a 1.50 GAA but he also leads his team in penalty minutes.

The main problem for LA comes in the form of Chicago's 97.6% kill rate on the PK - ridiculous.
LA will have to get more production from the their two Dustins, Brown and Penner. They may not be able to survive on the lack of offense they have shown in the playoffs thus far - averaging just 2 goals a game. The timely contributions from D-man Slava Voynov (3 game winners) Have been nothing short of clutch, and one can argue he has been their best player
These two teams offer the best two defenses left in the playoffs. Both teams will need there offensive stars to step up in ways we have yet to see so far. Expect low scoring, and jaw dropping goaltending to dominate. That said, LA has the advantage in that department.


Jason:
Both teams are coming off of 2nd round match ups that went the distance. The Kings took out their Cali rival Sharks and the Blackhawks rallied from being down 3-1 against the Red Wings.

In net, Quick and Crawford are 1 and 2 in GAA these playoffs, but Quick is certainly the better goalie. That's not a knock on Crawford, but he certainly benefits from his teams style of play.

Offensively, the Blackhawks have the lethal weapons, but its their secondary threats who have led the way. Patrick Sharp and Marian Hossa (secondary?) are the stop scorers so far. Patty Kane has done well but the B'Hawks want more from him. They will also expect more from Jonathan Toews, who has only scored once (although it was a game winner) so far these playoffs. The other guys have picked up the slack, but they will need the star to step up.

For the Kings, it all starts in net but they aren't too shabby in front of him. Drew Doughty is the Allstar D man but Slava Voynov has emerged as another top defender. Depth guys like Rob Scuderi and Alec Martinez have gotten it done. On offense, the Kings need Dustin Brown to chip in more. Anze Kopitar, Jeff Carter and Mike Richards have done well but they will need some help to match up with Chicago's guns (poor taste?) and stay on this series.

Chicago is rolling right now. 3 consecutive wins in elimination games should carry that momentum over. It won't be easy though. Hawks in 6.