By Marley Burr (@MarleyBurr), Mitch Sandberg, Ernest Bove
Hello again Broz and Ladies. After a few complications in the last couple weeks due to some writers lacking picks (TAK COUGH COUGH) and then complications due to vacations now we can finally return to the normal format of the NFL weekly picks. The Guest of the Week this week is going to be my friend and roommate, Ernest Bove, another New England Patriots fan. Right now the race is close with Marley in the lead at 69-58-4 and guest of the week trailing close in second with 64-63-4. Marley has been on a serious roll lately going 22-6 in the last two weeks with his picks. Let's see if he can keep his hot hand going in Week 10 with a correct TNF call.
Current Standings:
| | | | | |
| --- | --- | --- | --- | --- |
| | | | | |
| | | | | |
| | | | | |
| | | | | |
| | | | | |
| | | | | |
| | | | | |
| | | | | |
| | | | | |
| | | | | |
| | | | | |
| | | | | |
Player of the Week:
Doug Martin is getting the Player of the week for both Weeks 8 and 9. In those two weeks he has a combined 100 yards receiving, 386 rushing yards with six touchdowns. Those are some incredible numbers that have directly resulted into Ws for the Tampa Bay Buccaneers
Matchups and Spreads:
Away Team

Home Team

Favorite and Current

Spread

Original

Spread

Colts

Jaguars

-3




-3

Bills

Patriots

-11




-11

Giants

Bengals

-4




-4

Chargers

Buccaneers

-3




-3

Broncos

Panthers

-4




-4

Titans

Dolphins

-6




-6

Raiders

Ravens

-7.5




-7.5

Lions

Vikings

-1




-1

Jets

Seahawks

-6




-6.5

Rams

49ers

-11




-11

Texans

Bears

-1




-1

Cowboys

Eagles

-1

Eagles

-2.5

Falcons

Saints

-2.5




-3

Chiefs

Steelers

-11.5




-11.5
Indianapolis Colts @ Jacksonville Jaguars
Marley: Colts -3
Mitch: Colts -3
Ernie: Colts -3
Marley: The Jacksonville Jaguars are the 2011 Colts right now and things do not look like they are getting any better. The loss of MJD was huge but this team was already doing terrible before he was ruled out with his foot problems. It's hard to rely on a running back when every game has you down by multiple scores and you need to air the ball out with Blain Gabbert at the helm. It's just obviously not a recipe for success and the Jags are going to continue to get beat week in and week out unless they figure out something to do better. I just see too many problems and no real solutions.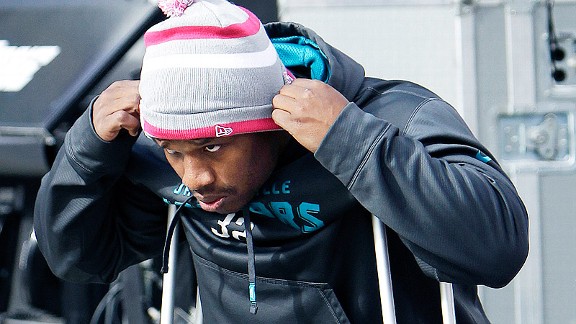 MJD is still sidelined and there is no timetable to his return from injury. However, even with MJD in the game the Jaguars were still struggling mightily. Will they be looking at a number one pick in the 2013 NFL Draft?
The Colts are almost the exact opposite of the Jags. Is anyone in Indianapolis questioning the decision to let go of Peyton Manning and rebuild the franchise with Andrew Luck? This kid is the real deal and has lead the Colts from a 2-14 season to a 5-3 first half of 2012. Now that is truly impressive. This team might actually be playoff bound after finishing dead last in 2011 and having the first overall draft pick. They are on a three-game winning streak and last week Luck threw for 433 yards with two touchdowns breaking the single-game rookie record.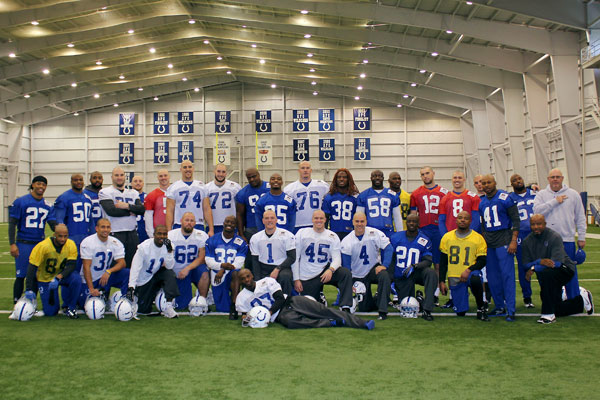 The Colts have shaved their heads in support of their Coach Chuck Pagano who is battling back from Leukemia. This team is very hot right now and they have the motivation to keep winning for Pagano.
The Jaguars are in serious trouble; have lost five in a row and are just looking for anything to stop their current freefall. Barring an implosion from Andrew Luck & Co., I don't think that will come this week. The Colts are just playing too well right now and have the added motivation of playing for Chuck Pagano who is recovering from Leukemia (which has gone into remission). The Colts look like a team who can actually make that change from bottom of the table to playoff bound if they continue to take advantage of the opportunities given to them. Right now a game against one of the two worst teams in the league is such an opportunity and I firmly believe the Colts will take advantage. Colts by at least three.
Tune in Saturday for the rest of M & M´s Pickz!