By
Marley Burr
(
@MarleyBurr
),
Mitch Sandberg
& Alex Cohen-Smith
Week 6 was a rough week for everyone involved. It was also the first time this season that all three experts were in the red, finishing for a combined 14-28. Needless to say expectations are high this week as we bring in a personal friend of ours, Alex Cohen-Smith, to be our guest of the week for Week 7. I'm sure he will fit in perfectly and bring the GOTW's percentages back up to its rightful place. Right now Marley is in the lead with a record of 42-46-3 and looks to build on it this week. Let's get started!
Current Standings:
| | | | | |
| --- | --- | --- | --- | --- |
| | | | | |
| | | | | |
| | | | | |
| | | | | |
| | | | | |
| | | | | |
| | | | | |
| | | | | |
| | | | | |
Week 6 Player of the Week:
Shonn Greene steamrolled the Colts for his first player of the week award. He finished the game with a dominating 161 yards and 3 touchdowns to give the Jets a much needed win at home.
Week 7 Spreads:
Home

Away

Spread

Total

San Francisco

Seattle

Original Line 49ers -7

Current Line -7.5

Buffalo

Tennessee

Original Line Bills -3

Current Line -3

Minnesota

Arizona

Original Line Vikings -5.5
Current Line -6

Indianapolis

Cleveland

Original Line Colts -3

Current Line -1

Carolina

Dallas

Original Line Cowboys -1

Current Line -1

New York

Washington

Original Line Giants -7

Current Line -5.5

New Orleans

Original Line Saints -3

Current Line -1

New York

Original Line Patriots -11

Current Line -10.5

Oakland

Jacksonville

Original Line Raiders -4

Current Line -4

Houston

Baltimore

Original Line Texans -4

Current Line -7

St. Louis

Green Bay

Original Line Packers -5.5

Current Line -5.5

Cincinnati

Pittsburgh

Original Line Steelers -1

Current Line -1

Chicago

Detroit

Original Line Bears -5.5

Current Line -6.5



Tennessee Titans @ Buffalo Bills
Mitch: The Bills are an interesting team. One week they will look like one of the worst teams in the league, and then the following week they will play well and look like an above average squad capable of making the playoffs. The Titans similarly have looked very bad throughout most of the season, but do have two wins against the Lions and Steelers respectively, although it's looking like those two teams are worse than once predicted.
C.J. Spiller for another straight week has split carries with Fred Jackson who only gets 15% more carries. It has become clear that C.J. Spiller is the future of the Bills running game.
The Bills finally will have their one-two punch with a healthy Fred Jackson and C.J. Spiller in the backfield which will bring a much needed balance to the Buffalo offense this week. Matt Hasselbeck has the Titans looking better but they won't have enough to cover.
Arizona Cardinals @ Minnesota Vikings
Mitch: The Cardinals started off the year looking great but have been far from impressive the past two weeks. Minnesota has stayed consistent since beating San Francisco two weeks ago. Adrian Peterson has looked better the past three weeks and Christian Ponder has played decently all year. With the game being played in Minnesota, the Vikings on the up and up and the Cardinals losing motivation every week I don't see how Minnesota doesn't win this by a touchdown or more.
Christian Ponder was not able to escape the pressure last week against Washington. Now at home he can lead his team to another victory with the aid of Peterson and Harvin.
Cleveland Browns @ Indianapolis Colts
Marley: The Cleveland Browns have been flirting with stealing a game all season and last week it finally happened, the Browns won a game. With a hard fought win the Browns showed everyone that they are not as bad as their record shows and are massively underrated. Brandon Weeden threw 2 touchdowns and Trent Richardson was his usual self to take down the Cincinnati Bengals. The Browns are going to continue to get better and better and I think your going to see a number of wins from this team.
The Browns finally had something to celebrate as they beat the Cincinnati Bengals at home for their first win of the season
The Colts were destroyed this last week by the New York Jets and it brought up a lot of questions about the team that the Colts were last year and if Luck can fix all of those problems. The New York Jets were able to use the ground and pound game all day and give Shonn Greene (who had scored 1 touchdown in 6 games). The game was a travesty for the Colts who allowed Sanchez to throw for 2 touchdowns in addition to Greene's 3.
The Jets finally got tired of all the negativity that was being thrown their way and responded with a systematic takedown of the Colts and their rookie Quarterback. As seen in this picture Andrew Luck had a rough day.
The Colts are a very unpredictable team. They can beat someone like the Packers and then blow a game to the New York Jets. Now they are at home again and they actually have a matchup that is a lot tougher than a lot of people think. The Colts need to step up and stop Trent Richardson from doing what the Jets just did with Shonn Greene otherwise they are going to be in for another rough day. I think the Browns get 2 in a row.
Dallas Cowboys @ Carolina Panthers
Alex: Two underachieving teams battle in this game between the Cowboys and the Panthers in Carolina. Both teams are facing game changing injuries and will be relying heavily on key-backups. Without a win in the almost a month, the Cowboys are struggling for answers. On Sunday they'll be without starting running back Demarco Murray who was hurt during their tough loss to Baltimore last week. Top-tier receiver Dez Bryant is also recovering from a groin injury, but is expected to play. Still, don't expect a full-contribution from the wideout who caught 12 passes last week.
The Ravens escaped with a comeback win against the Cowboys. The Cowboys wasted time in the final minute of the game instead of trying to gain a few more yards and then missed the game winning field goal.
The 1-4 Panthers are another team in state of flux as quarterback Cam Newtown has found himself mired in a sophomore slump. With top-cornerback Chris Gamble already out and defensive anchor Jon Beason listed as doubtful for Sunday's game, the Panthers will need other players to step up, especially cornerbacks Captain Munnerlyn and rookie Josh Norman.
This game will be a shootout and an entertaining one to watch (unless your a fan of defensive struggles). Expect Carolina, to ride the homefield advantage to a surprise victory over the reeling 'Boys, Carolina 31 Dallas 27.
Washington Redskins @ New York Giants
Marley: The Washington Redskins live and die with RGIII and his ability to escape the pocket. Last week when he went out of the game with a concussion the Redskins completely were outmatched. They really showed how much they depend on RGIII and how he has taken control of this team. The Redskins O-line of this team is really good, they give RGIII protection allowing him to find his receivers and get Alfred Morris running room that opens up the passing game. This game for the Skins will be all about if the O-line can stop the Giants NASCAR pass rush and if RGIII can continue his amazing seasons that so far includes 6 rushing touchtowns and over 70% completion on his passes.
RGIII ran for 2 touchdowns against the Vikings, proving that the concussion issue everyone was talking about was not an issue at all.
The G-men week in and week out are underrated, especially when they play against other amazing teams. As I wrote in my preview of last week, this team largely plays up or down to their competition. Last week they went up against what is supposed to be a Super Bowl contending team and absolutely owned them at home. They outplayed the 49ers on both sides of the ball and showed that when their game is on they can beat anyone in this league. They forced turnovers, they got pressure on the quarterback, they stuck with the running game and kept the 49ers honest, and they capitalized on scoring opportunities. If they can play like that then nobody is going to beat this team.
Alex Smith goes to the ground as hes sacked by JPP. The 49ers were not able to do anything about the pressure the Giants put on them last sunday.
This could be a trap game for the New York Giants at home. Last year the Giants were swept by the Redskins and that was without RGIII. I remember that Eagles game a couple of weeks ago and how even with the amount of pressure we were able to get on Philly, Vick would just escape the pocket on every play and run for a bunch of yards. The problem is that RGIII is a better passer and a better runner than Vick is. The Giants do have their work cut out for them and if they can fix the mistakes they made in the Eagles game I think they can stop RGIII and the Redskins. Giants win by a touchdown.
New Orleans Saints @ Tampa Bay Bucs
Alex: Last season division rivals Bucs and Saints split the season series with each team winning the game where they had homefield advantage. It's been a season of sadness and disappointment for the Saints who no expected to be to at the bottom of the NFC after a consistent string of years amongst the NFL's elite. This week the Saints get back linebacker Jonathan Vilma, who returns from his suspension for his role in BountyGate. Vilma should only be on the field for about 25 snaps but his emotional prescense can't be understated for a Saints team looking for answers. The Saints will be without tight end Jimmy Graham who was declared Out due to an ankle injury sustained against the Chargers in Week 5.
Ronde Barber picks up a fumble against the Chiefs in their big win against the Chiefs. The Bucs has been very disappointing this year maybe they will be able to turn it around in the second half of the season
The 2-3 Bucs have taken 3 losses that easily could have gone the other way. Josh Freeman has a new favorite target in wide receiver Vincent Jackson who caught two TDs last week in their win over Kansas City. Jackson and Mike Williams have proven to be a strong 1-2 punch this year for the Bucs who have also relied on rookie running back Doug Martin to help them wear down opposing defenses.
Expect the Saints D to be motivated by the return of Vilma and well-rested after a week 6 bye. They'll hold off the Bucs here. Bucs 16 Saints 23
New York Jets @ New England Patriots
Alex: Before last week there would have nothing appropriate to say about this matchup except "mismatch'". The Jets were a team struggling to find their indentity and the Patriots were a team with a gameplan. Last week seemed to be a role reversal as the Jets steamrolled the Colts and the Patriots found themselves unable to hold off a late charge by the surprise Seahawks.
Baldwin goes airborn to reel in a pass agains the New England Patriots. Patriots has dropped a few games now to what many would consider lesser teams. Now they play their NY rivals at home. Will they drop another?
The Jets will be starting Mike DeVito at defensive tackle with Sione Pouha and Kendrick Ellis both out with injuries. Expect the Patriots frontline to get a big push and open up holes early for Stephan Ridley to expand on his respectable 524 yards after the first six games. Also don't be surprising if former-Jet Danny Woodhead makes his presence known in the Jets endzone at some point on Sunday.
This won't quite be the 45-3 beat down from 2010, but it surely won't be pretty for New York, Pats 34 - Jets 13
Jacksonville Jaguars @ Oakland Raiders
Mitch: This game is not one for the DVR as both of these squads come in 1-4. The Raiders are much better than their record shows, with the place holder singlehandedly losing them game one and barely losing to an undefeated Atlanta team last week on a last second field by Matt Bryant. The Jags on the other hand look like a 1-4 team, with a lackluster offense and a defense ranked 29th overall in the NFL. I expect the Raiders to take control of this game late and win by a TD.
McFadden gives a stiff arm against the Falcons. McFadden has proven to be a top running back yet can be injury prone. Now he faces off against MJD another top running back in the NFL
Baltimore Ravens @ Houston Texans
Marley: The Baltimore Ravens went from being one of the best teams in this league to a problem team almost overnight. Their offense is one of the most hit or miss that I have ever seen, some weeks just absolutely dominating and then others they just cannot score. The defense of the Ravens has always been the rock of this team and usually they can make up ground for the offense. However, they just lost Ray Lewis and Ladrius Webb for the rest of the season. This is a huge loss to this defense as they just lost their defensive General and one of the best talents they have in the secondary. Terrell Suggs has said he will play on Sunday but he will not be 100% and this defense is in some serious trouble right now. If the offense continues to be hit or miss then you can see the Ravens dropping from their barely top 10 ranking.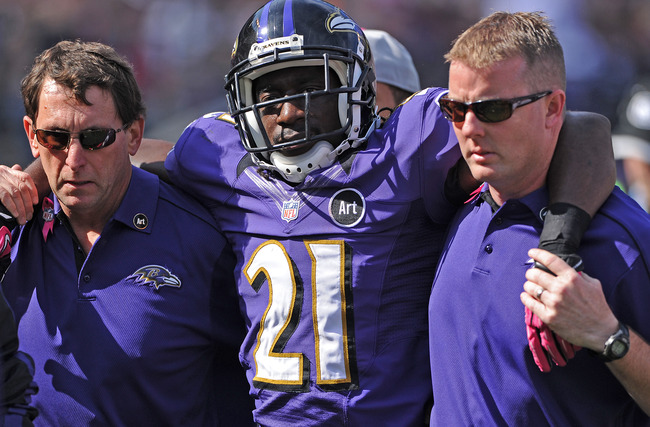 Both Webb and Ray Lewis are now out for the season. How will the Ravens weakened defense stand up to the powerful offense of the Texans this week?
The Texans just had a big defeat to the Green Bay Packers, their first defeat of the season. The team that showed up last week against the Packers was not the Texans that I have seen play so far this season. I think a big reason for this is the loss of Brian Cushing who is the Ray Lewis of the Texans defense. The Texans were not able to stop the running game as much as they have in previous weeks and because of this the Packers were able to keep the defense honest and pass the ball well against them. The offense is still a juggernaut however, with some of the best receivers an arguably the best running back in the league. Arian Foster is a beast and it's become almost impossible for anyone to stop him.
Matt Schuab was not able to do anything against the Packers last week. Maybe he will have some more luck against the Ravens
This game is going to be decided on the ground, Foster vs the weakened Ravens defense and Ray Rice vs the weakened Texans defense. Both teams are figuring out how to proceed without their best defensive players and both teams have offenses that when they are on are unstoppable. This could be a very high scoring game but I think the Texans pull away from the Ravens in the end by at least a touchdown.
Green Bay Packers @ St. Louis Rams
Alex: With people starting to question Aaron Rodgers as an elite quarterback, he reminded everyone just how the Packers won the super bowl two years earlier, by throwing six TD's on Monday night versus the undefeated Texans. The Packers do have some tough injuries to overcome and will be without Greg Jennings, Sam Shields, and BJ Raji on Sunday. Alex Green will play a big role and earned his 2nd straight start with Cedric Benson recently placed on injured reserve.
An amazing catch with the fingertips, the Green Bay Packers dominated the Texans at home last week.
Without his top wideout Danny Amendola for the next weeks and with Stephan Jackson no longer the dominant force he was for multiple season in the backfield, Sam Bradford is attempting to figure out just how he can keep the Rams offensive attack running. He has found a target he likes in Brandon Gibson and the two-back attack of Jackson and Daryl Richardson is proving to be a serviceable change of tempo combination.
Expect the Pack to score early and then ride out heavily on Green and the running game, Packers 26 Rams 17
Pittsburgh Steelers @ Cincinnati Bengals
Mitch: The Steelers confirmed everyone's suspicions last week with their loss to the Titans: they're a very average team. Many, including myself, thought that the Steelers were just starting off slow, but as the weeks have passed by, they haven't shown any signs of improvement, in fact they look worse. The Bengals did not look good last week either, losing to the formerly winless Cleveland Browns team. I still think that Cincinnati has the advantage here being at home, with the better offense. Ben Rothlisberger will keep Pittsburgh in the game with his ability to avoid sacks but Andy Dalton will be able to lead his team to victory.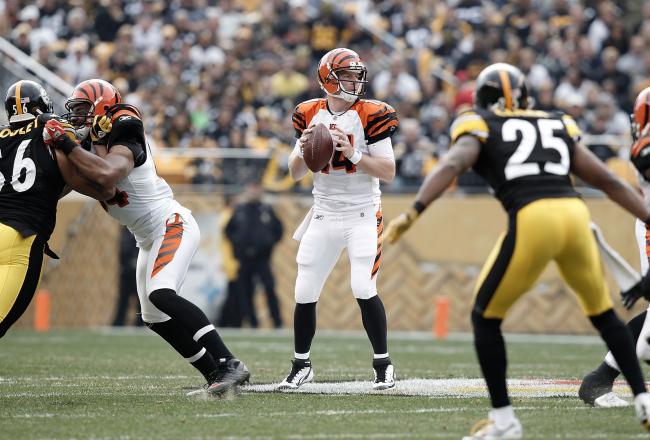 Andy Dalton calmly stands in the pocket against the Steelers in 2011. If they dont manage to get pressure on Dalton this is going to be a familiar scene come sunday